And Mary turned around and saw... a gardener
Some relevant quotes from patristic sources referring to Jesus as a gardener and the spiritual correctness of Mary's error. In a spiritual sense Jesus is a gardenere. He sows the seeds of faith in Mary's heart (Augustine, Gregory the Great). Broader it refers to the tradition of the hortus conclusus (linking this garden with Eden, the tree of life, Gethsemane and the Song of Songs (f.i. Cyril of Jerusalem). Stunning: Mary's mistake is not necessarily a visual error (esp. in Chrysostom's sermon), but caused by Jesus himself who really looked like a gardener (dress and equipment). I found these quotes in a wonderful book: Anthony M. Moore, 2013, Signs of Salvation, The Theme of Creation in the Fourth Gospel. pp 86-93.
In recent research a same realism is found in medieval Easter-plays (perhaps connected to the increase in pictures of Noli me tangere) where Jesus appears to Mary Magdalene as a true gardener, not in angelic way (Fra Angelico), but dressed like one, with shovel, hoe, hat (see image = Rembrandt).
Jesus played a 'trick' on Mary. For this, R. Warning, Seeing and Hearing in Ancient and Medieval Epiphany and De Boer/Göttler, Religion and the Senses in Early Modern Europe (in particular the essay by B. Baert)
In Tractate CXXI (homily on Jn 20:10-19) Augustine first defends Mary for mistaking Jesus for the gardener (or vice versa) and then, after the noli me tangere scene, Augustine returns to the image of Jesus as the hortulanus depicting him as sowing the grain of mustard seed in Mary Magdalene's heart:
There are points in these words which we must examine with brevity indeed, but with somewhat more than ordinary attention. For Jesus was giving a lesson in faith to the woman, who had recognized Him as her Master, and called Him so in her reply; and this gardener was sowing in her heart, as in His own garden, the grain of mustard seed.

Est in his verbis quod breviter quidem, sed tamen attentius pertractare debemus. Jesus quippe mulierem quae illum magistrum agnovitet appellavit, cum haec ei responderet, fidem docebat: et hortulanus ille in ejus corde, tamquam in horto suo granum sinapis seminabat.

(Opera Omnia, ed. Maurist Benedictines (Paris: Gaume Brothers, 1837), Vol. 3. English translation john Gibb in in Philip Schaff (ed.), St Augustine: Homilies on the Gospel of John...(Nicene and Post-Nicene Fathers, First Series, Edinburgh: T&T Clark, 1888, Vol. 7, 437.

//newadvent.org/fathers/1701121.htm
John Chrysostom (sermon 87):
When she [Mary Magdalene] had said this, she turned around' (Jn 20:14): And by what kind of consequence is it, that she having spoken to them, and not having yet heard anything from them, turned back? Methinks that while she was speaking, Christ suddenly appearing behind her, struck the Angels with awe; and that they having beheld their Ruler [despotès], showed immediately by their bearing, their look, their movements that they saw the Lord; and this drew the woman's attention, and caused her to turn herself backwards. To them then He appeared on this wise, but not so to the woman, in order not at the first sight to terrify her, but in a more common and ordinary form, as is clear from her supposing that He was the gardener [kèpouros]. It was meet to lead one of so lowly a mind to high matters, not all at once, but gently.

In honour of our Greek Patres, the original (as image, otherwise....). I highlighted the phrase with hortulanus (kèpouros in Greek) :

English translation: Charles Marriott in Philip Schaff (ed.), St Chrysostom (Nicene and Post-Nicene Fathers, First Series, Edinburgh: T&T Clark, 1888, Vol. 14, 323 //newadvent.org/fathers/240186.htm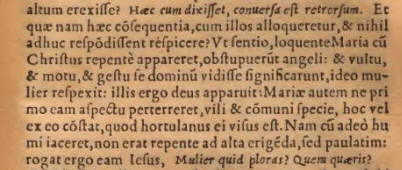 Two Latin translations. Above a translation made by Fr. Aretion dedicated to Cosimo de Medici (ca. 1459) from a Paris edition 1543. Below the textedition with Latin translation Opera Omnia quae existant, vol. 9, procured by Bernard de Montfaucon (Mauri). The Greek word is 'kèpouros', the Latin 'hortulanus'.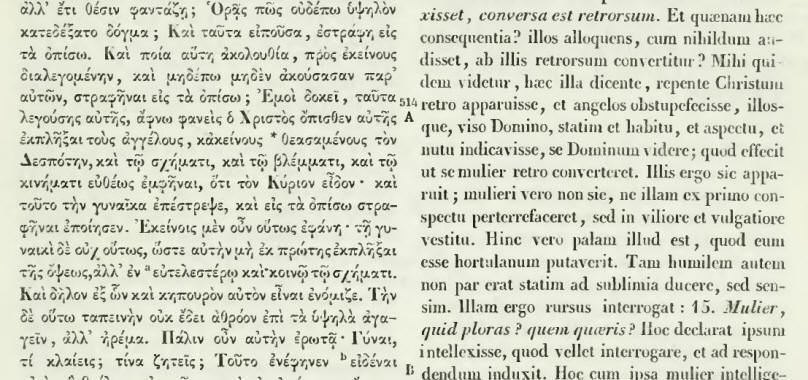 Gregory the Great (Homiliarum in Evangelia LXXVI, Migne Patrologiae Cursus Completus, 1191) sees deeper significance in the Magdalene's 'misunderstanding' of Jesus to be the gardener and, in theological terms, comes close to sharing Augustine's interpretation
Perhaps this woman erred by not erring, who thought Jesus was the gardener. For was he not to her a spiritual gardener [hortulanus], who in her breast used to plant sprouting seeds of virtues through his love ?

Forsitan nec errando haec mulier erravit, quae Jesum hortulanum credidit. An non ei spiritaliter hortulanus erat, qui in ejus pectore per amoris sui semina virtutum virentia plantabat?

English: Rev'd Dr. Hugh Houghton (University of Birmingham)
Broader: merging the garden (of Eden - Paradise), the garden of the Song of Songs (where the bride meets the groom), and the garden of Gethsemane (with tree, where Jesus dies) and the garden of the resurrection is not at all unusual in patristic exegesis. Moore shows this in Cyril of Jerusalem (Catechetical lecture XIII, on the Words, Crucified and Buried) and Clemens of Alexandria. They also alternate the greek word for 'garden' (kèpos) and 'paradise'. A cross-over of meaning.
Finally: a page from the Breviary in the Museum Mayer van den Bergh (Antwerp) with the Easter-scenes according tot the gospel of John, with the Hortulanus.