Dick Wursten, 'François Vatable, so much more than a 'name'', Bibliothèque d'Humanisme et Renaissance – Tome LXXIII – 2011 – no 3, pp. 557-591.
Introduction and SUMMARY (the image is from Th. de Bèze, Icones, 1581)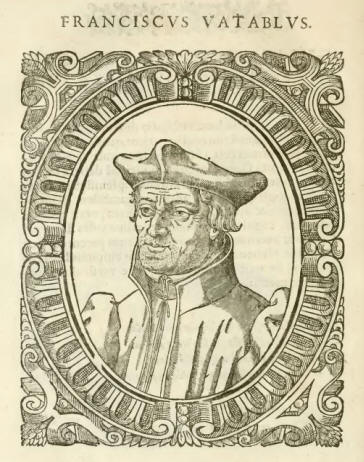 Full article with images; click here.
François Vatable (born late 15th Century, died 1547), appointed in 1530 as royal lecturer of Hebrew in Paris) is mainly, if not exclusively, remembered for his collaboration with Robert Estienne in the production of the famous 1545 Latin Bible in which the old Bible translation (Vulgate) and a new one directly translated from the Hebrew are printed side-by-side.
However, before becoming Royal Lecturer he already was widely known as a Humanist Scholar. His editions (with new Latin Translations from the original Greek texts) of Aristotle's basic writings on all kinds of physical phenomena were wide-spread textbooks at Universities all over Europe.
As a Royal Lecturer (from 1530 onwards) he taught an entire generation Basic Hebrew and if interested: rabbinical Hebrew as well. Together with thge Royal Printer, Robert Estienne, he edited and printed the Hebrew Text of the Old Testament, adding rabbinical commentary (David Kimhi) to the edition of the Minor Prophets as well (there his name appears on the title page - see the full article).
His name as biblical scholar though is closely connected to 'notes accompanying Estienne's 1545 Bible. These notes (glossa, annotationes) therefore became known as the 'Vatable notes' (notes de Vatable) and the Bible edition itself as the 'Vatable Bible' (Bible de Vatable). The content of some of these notes led to an escalation of the already existing tensions between the printer, Robert Estienne, and the Paris theologians. When it came to open polemics and censure, the supposed author, François Vatable, had already died (16 March 1547).
An intriguing aspect of these notes is that almost everything about them is uncertain, even their proper identification poses difficulties : 'which notes are we talking about?': the notes in the 1545 Paris Bible or the notes in the 1557 Geneva Bible, both printed by Robert Estienne and both often simply referred to as Vatable's. Nevertheless these notes are not identical ....
The 1545 Bible became the object of an inquisitorial tug of war in Spain. It was censored, and with a plethora of corrections published by André de Portonariis (1555) and banned again, then reedited by three theologians of Salamanca (a.o. Luys de León) and finally printed by André's brother, Gaspard de Portonariis, authorized in 1573, published in 1584. On the title page the glosses are advertised as being Vatable's....
In my article I try ('essay') to establish the elements of his biography and re-appreciate his universal scholarship. At the end I concentrate on some of some real 'Vatable Notes', the ones set down by his most famous student, a precocious boy (in his early teens at the time) Girolamo Della Rovere (Turin, 1530-1592).