New light on the location of Clément Marot's tomb and epitaph in Turin
Article appeared in Studi Francesi n. 161/2010 [anno LIV - fascicolo II - maggio-agosto 2010], 293-303
SUMMARY
That the French court poet Clément Marot (born in Cahors in 1496) died in Turin in 1544 has always been known; that his life-long friend Lyon Jamet wrote an epitaph for his tomb and had it engraved in marble, also. That the epitaph was effaced and the tomb could not be found was generally accepted. Re-combining factual information consisting of sixteenth-century references (Audebert's Voyage d'Italie and Gianbernardo Miolo's Cronaca, both not new but almost passed into oblivion), the author reconstructs the circumstances around Marot's burial, identifies the commissioner, and claims that the epitaph, although effaced, can be located almost exactly in the Cathedral San Giovanni in Turin. A recent discovery of a contemporary drawing of the original epitaph makes a virtual reconstruction in loco possible.
To refresh the minds of the connoisseurs, and to introduce the others to the issue at stake, I first present a short survey of the state of the question about Clément Marot's arrival and stay in Turin, trying to distinguish between known facts (F) and probabilities (P)
After having left Geneva in 1543 on an unknown date, but (F) after October the 15th, when Jean Calvin pleaded at the Geneva council for a pension to support Marot,[1] and (P) before 20/12/1543, when Marot's name is mentioned but he himself is not summoned for the Consistory in the so called tric-trac affaire.[2]

(F) Marot spent some time in the Savoy, i.c. near Annécy with Bonivard's sister in law, Pétremande de la Balme (to whom he dedicated an epigram[3]) and with a friend of Bonivard, François Noel de Bellegarde (near Chambéry), a man of some stature and political weight in the Savoy, to whom he also addressed a poem.[4]

(P/F) Marot tried to move the King's heart to let him return to France. Some epigrams testify to this effort.[5]

(P) While in Chambéry he must have heard of the preparations for battle and the subsequent victory of the Comte d'Enghien XE "Epistre A Monsieur d'Anguyen" (François de Bourbon) near Ceresole (14 April 1544). (F) In an Epistle Marot offers his services to the conquering hero and in an epigram he sends his best wishes to his military camp.[6]

(F) He ventured south from Chambéry and (P) via the pass of Col Mt. Cenis and the valley of Susa, he arrived in Turin, the headquarters of the King's governor.[7]

(F) On 12 September September Marot died.

(F) Lyon Jamet wrote an epitaph for his tomb, which was engraved in marble and placed in the Cathedral San Giovanni in Turin.[8]
At this point there is some confusion, because some authorities suggest that Marot died in the Ospedale san Giovanni Battista and that Jamet had the epitaph inscribed on his tomb there. The heading with which the epitaph of Jamet is published (at least generally known since Lenglet Du Fresnoy (1731) placed it in front of his edition of Marot's works) is quite explicit:
Epitaphe sur le tombeau de Marot, Faict par Lyon Jamet, insculpé en marbre en l'Eglise Saint-Jean de Turin, 1544, le 12 septembre.
The Turin cathedral is dedicated to San Giovanni, i.c., John the Baptist. [9]
"A la recherche du tombeau perdu"
Of course people have searched for traces of the tomb and the Epitaph, but in vain:
- Nicolas Lenglet Du Fresnoy (1674-1755), Marot's first modern editor, writes in a footnote (Oeuvres vol. I, p. xxiv, 1731) below the text of the Epitaph: "J'ai prié un de mes amis qui alloit en Italie de voir en passant à Turin, si cet Epitaphe de Clement Marot se trouveroit enocre dans l'Eglise de St.Jean, où Lyon Jamet l'avoit fait graver. Mais toutes les recherches ont été inutiles; soit que Marot ayant donné dans les nouvelles opinions, on ait depuis oté cet Epitaphe, soit que le temps l'ait effacé ou fait oublier."
- Georges Guiffrey (1827-1887), the first one who tried to establish a critical edition of Marot's works, went to Turin himself (not so far, he was senator of the dep. Hautes-Alpes) to look for any trace of it. This is his report (Oeuvres, vol. I, p. 561): "Nous avons fait le voyage de Turin pour rechercher dans l'église Saint-Jean la pierre sous laquelle devait reposer Marot; Nous n'avons pu découvrir le moindre vestige de cette sépulture… A défaut de la pierre funéraire qui peut-être fut enlevée au milieu des vicissitudes de la politique, ou dont l'inscription fut effacée par les pas des fidèles, nous avons tenté d'interroger les archives obituaires de l'église. Ces archives s'arrêtent brusquement quelque temps avant la mort de Marot. Le temps a ses caprices…"
Before continuing, a preliminary question needs to be dealt with: How it is possible that a French poet with a 'protestant' reputation was buried in the Archbishop's Cathedral, a poem in French being carved out in marble and placed above the tomb? The level of amazement can already be considerably lowered when one takes into account the historical context: After the battle of Ceresolo Turin had become the headquarters of the conquering army, and thus the centre of French dominion. In 1544 the term 'protestant' was not yet cleared out: many people were longing for and working on a reformation of the Church; in and around Turin the Vaudois community was prominent; the region of Piedmont was known as a safe haven for many a refugee from France;[10] and finally the (unifying) influence of John Calvin should not be overestimated yet: his dominance was only emerging. One should not project (or better: retroject) simple oppositions of later days to times when they were only in statu nascendi. But there is more to this than placing the facts in a historical perspective alone. Marot was not just 'anybody'; he was the 'prince des poëtes francoys'. The usual suggestion that Marot lived and died in poverty the last months of his life in Turin, desperately – but in vain – trying to get restored to his former glory (the favour of the King) is not based on fact; On the contrary: the few known facts seem to point in the opposite direction. A contemporary witness to Marot's burial, Gianbernardo Miolo (1506-after 1569, since 1539 a notary employed by Gullielmo of Cercenasco, a village near Turin), informs us that the King's Ambassador in Rome, George d'Armagnac (at the end of the year he is offered the cardinal's hat), carried the expenses for the burial of Marot.[11] This simple communication is revelatory, but seems to have eluded the attention of Marot scholars. George d'Armagnac was not only the King's ambassador, but also Marguerite de Navarre's protégé. She had introduced him at Court. He became one of France's most influential diplomats, friend of Princes and Popes, and great lover of the Arts.[12] He is suggested to have commissioned the burial and commanded the placement of the epitaph, something which seems quite imaginable. Perhaps the author of the Epitaph, Lyon Jamet, was the one who in loco took care that everything went as foreseen. Him we often only know as Marot's friend, but he was much more than that. He was seigneur de Chambrun and an international diplomate. Ever since his flight to Ferrara, slightly preceding Marot's arrival there, but having fled for the same reason (he was on the list of wanted persons after the Affaire des Placards), he was at the service of the Duchess ànd the Duke, which is quite extraordinary regarding his 'protestant' stigma. As the Duke's personal secretary and ambassador he fulfilled many an important mission, both in Italy and France.[13] Behind these two men, two of the most powerful female friends of Marot: Marguerite de Navarre and Renée de Ferrara, become visible by implication. They are the true instigators of his prominent burial place. Marot was not living an obscure life in Turin, nor did he die unnoticed. Prominent persons took care of his final resting place, which therefore should be worthy of France's most eminent poet: in the Cathedral of Turin.
Nicolas Audebert's description of the burial place and the Epitaph
In 1962 Adalberto Olivero dug up and published 'new' (i.e., once more, 'old') information about the exact location of Marot's tomb and epitaph; information he had found in a Manuscript in London, containing Nicolas Audebert's report of his Italian journey of 1574-1578, Voyage d'Italie.[14] Audebert writes – with indignation – that Marot's epitaph in Turin was erased just before his arrival. He mentions as a matter of fact that this was explicitly demanded by the Roman-catholic authorities. Next to the very precise date and circumstance, already noteworthy, the most interesting element of Audebert's description is that he also indicated the exact location of tomb and epitaph. To give the reader the opportunity to follow, we copy the transcription as published by Olivero:[15]
Tout contre et à un bout du palais est la principale et Cathedrale eglise nommée San Giovanni, laquelle est très belle, grande et spatieuse. Il y a deux entrées l'une qui est tout au bout, et de premiee arrivée regarde droict au maistre aultel, à laquelle se monte dix ou douze marches de pierre de taille. L'aultre porte est petite et à main droicte, devant laquelle y a un petit perron pour venir en l'eglise et soubz iceluy est ensepulturé Clement Marot duquel l'epitaphe estoit tout proche, au dedans de l'église, en une pierre longuette qui est dans la muraille, laquelle a[16], depuis peu de temps, esté martellée et l'Epitaphe effacé, par l'advis et requeste de l'Archevesque, et rnaistres de l'inquisition, avec le consentement de son Altesse, ce que Madame la Ducesse avoit longtemps empesché et rompu le coup quand il s'estoit proposé. Il n'y avoit en l'Epitaphe qu'un dixain en vers francoys, telz qu'ilz suivent qui furent faicts par un aultre poete francoys nommé Lyon Iamet.
Icy devant au giron de sa mere
Gist des Francoys le Virgile et l'Homere
Cy est[17] couché, et repose à l'envers
Le non pareil des disans en vers.
Cy gist celuy qui[18] peu de terre coeuvre
Qui toute[19] France enrichit de son oeuvre
Cy dort un mort, qui tousjours vif sera
Tant que la France en Francoys parlera.
Bref gist, repose, et dort en ce lieu cy
Clement Marot de Cahors en Quercy.
le 12 septembre 1544
Audebert renders the epitaph in a version almost identical to already known editions. According to his own report, he did not actually see the original epitaph, since it was already effaced when he arrived in Turin. The information about the circumstances in which the epitaph was demolished, seems trustworthy. One gets the impression that Audebert reproduces information he got while in Turin. Something of fresh felt indignation shimmers through his text. Apparently the epitaph was demolished shortly after the death of Marguerite de France (15 September 1574), she also being the only reason that this was not done before. The Archbishop, Girolamo della Rovere, was educated in France, acquainted with the poets of the Pléiade, and tried to implement the Tridentine reform. The consent of the Duke of Savoy can also be understood. He not only supported the new archbishop, but seemed to have had high expectations of the Jesuits:[20] signals that both opted for a re-catholisation of the Waldensian region and therefore were willing to cooperate with the 'masters of the inquisition' to erase Marot's epitaph in the Cathedral. Marot's 'fama lutherani', during his lifetime already inextricably bound to his person, had only increased after his death, in particular because his Psalms were sung in reformed liturgy. Next to these religious motives, one should also not underestimate anti-French sentiments in Turin/Savoy in those years. The French occupation (from 1536) had ended in 1559, when the duke of Savoy (Emanuele Filiberto) had succeeded in transforming his duchy into a powerful political player in the region (peace of Cateau-Cambrésis). Italian became the official language and in the centuries to come the Duchy of Savoy became a stable and unifying factor on the hopelessly divided Italian peninsula. This relative independence (both from Spain and France) of the Duchy of Savoy coincided with the Duke's marriage with the daughter of François I, Marguerite de France. The personal attachment of Marguerite de France (1523-1574) to the 'monumentum' for Clément Marot can also be understood: She must have known him personally, Marot was her father's official poet; as a young girl she even once had received an Epistle from her niece (Jeanne d'Albret), which in reality was written by Marot.[21] As a girl from François's first marriage (with Claude de France, d. 1524), she was raised by her aunt, Marguerite d'Alençon, Queen of Navarre, Marot's most loyal supporter and protector. Cultural interest, spiritual open-mindedness, and readiness to personally protect religious refugees, mirror her upbringing. This valuable information provided by Audebert, made available by Olivero in his article in 1962, did not really attract attention of the scholars in het last part of the twentieth century. In his biography of Marot (1972), Mayer obscures this when he, in a footnote he referring to the article of A. Olivero, only writes: "Peu de temps après l'Inquisition semble avoir enlevé toutes traces de ce tombeau. Déjà au dix-huitième siècle il était introuvable."[22]
Location of Tomb and Epitaph in the Duomo
But what is even more astonishing, is that the very precise indications about the location of Marot's final resting place and the Epitaph inside the Church seems completely to have eluded the eyes of modern scholars, since I could not find any reference to this in subsequent literature. Nevertheless it can't be more precise. Audebert gives accurate directions, as if he wants to guide the reader to the proper place. To find Marot's grave the visitor should not enter through the main entrance but take the smaller door at the right-hand side of the Church.
In front of this door is a landing, pavement ('perron'). Here Marot is buried ("et soubz iceluy est ensepulturé Clement Marot")
To find Jamet's epitaph one should enter the church through that door, and look for the epitaph, since it should be nearby ("duquel l'Epitaphe estoit tout proche au dedans de l'église");
It should not to be looked for on the floor (as Guiffrey did), but on the wall '"en une pierre longuette qui est dans la muraille"
One should not expect to find it, since it was completely demolished and cut off ("martellée"). Nevertheless the location might still be determined.
Based on this information an "expedition" to Turin forced itself. Although no expert in architecture and inscriptions at all, and with only a very general knowledge of the history of Turin, this could never be more than prospecting to size up the situation and determine whether a further investigation would be worthwhile. The results – as described below – I offer to real experts 'as they are', i.e., without any pretension, hoping they might incite them to make the proper assessments in loco.[23] The 'small entrance at the right-hand side of the Cathedral' was quickly found. The space in front of it, where the 'perron' used to be, serves as an office to the parish of San Giovanni. The space below, where Marot originally was buried, is now used as the entrance of the museum. The many changes, restorations and transformations made it highly unlikely that the bones of Marot would still be there, but the location of the burial place itself seems certified.
| | |
| --- | --- |
| <![if !vml]><![endif]> | <![if !vml]><![endif]> |
| 1a. outside view | 1b. inside view |
Ever since the remnants of the old churches were discovered under the existing church (restoration of 1997, after the great fire), archeologists and architects have taken over to uncover and interpret the presence of 'a complete second church' below the 'upper church', apparently also meant for devotional use. Next to the remnants of three palaeo-christian churches, they found and identified the bones of Cardinal Domenico della Rovere (d. 1501), bishop of Turin and driving force behind the construction of the Renaissance cathedral completed in 1498.[24] These excavations brought to light that not only the crypt below the sacristy (a little further at the right side of the choir) was used as an ossuary: burial places were found all along the outside church walls.[25] One is still in the process of making the inventory.
<![if !vml]>
<![endif]>
2. profile - longitudinal section – of the Duomo (with the contours of the chapel of the Holy Shroud, a later addition). The entrance is between the 6th and 7th pillar, just before the transept.
It is apparent that in the early days of this Cathedral this area was used for burials, elements not only corroborating the account of Audebert about the 'perron, soubz iceluy est ensepulturé Clement Marot', but also providing it with the necessary context to make it imaginable.
The church itself is full with epitaphs and funerary monuments, many of them placed on the wall, engraved in marble. According to Audebert's report Marot's epitaph was located inside the church, on a stone in the wall, not far from the door ('tout proche au dedans de l'église en une pierre longuette qui est dans la muraille'). Both walls close to the door were equipped with inscriptions. To the right (when entering the church) there is an inscription, beautifully carved in marble with an elevated border. Above the text is the coat of arms of a noble family (the inner part is vanished, only the outside shape is visible). It must belong to the marquisat of Ceva, since according to the Epitaph a marquis of Ceva, named Cristoforo, was buried there ('Christophorus marchio Cevae').[26]
| | |
| --- | --- |
| <![if !vml]><![endif]> | <![if !vml]><![endif]> |
| 3. Epitaph of Cristoforo di Ceva (at the right-hand side from the door on entering the Church) | 3b. The entire stone with the impression of depth (no flash, therefore unsharp). |
The reason why he was buried in the Turin Cathedral is also mentioned: He was related to ('nepos') Domenico della Rovere himself, in the text simply referred to as the cardinal of S. Clemente ('cardine[us] Sancti Clementi'). Cristoforo di Ceva died 15 May 1516. We can assume that the stone was fix and firm at that particular place when in 1544 Jamet's epitaph for Marot was to be placed on a wall near the door.
On the opposite wall (left when entering the church) a stone remembered that that Claude Guichard was buried there, counselor and historiographer of the Duke of Savoy, a famous archeologist (specialized in ancient funeral rites) and French poet as well. The epitaph informs us that he had died 8 May 1607.[27]
<![if !vml]>
<![endif]>
4. Epitaph of Claude Guichard (at the left-hand side from the door on entering the Church)
This epitaph postdates the removal of Jamet's inscription with 33 years. It therefore is quite possible that this was the wall 'tout proche', on which until 1574 Jamet's Epitaph could be read. We took a closer look and noticed something odd. Contrary to the epitaph on the opposite wall (and many others in this church), this epitaph was not carved out beautifully in marble, with a border as so many others in the church; it appeared to be not even really engraved: it was more painted on the stone than carved in it. A rectangular space in a whitened wall. Taking an even closer look, we noticed roughness at the place where the upper and lower border (but it was no border, the white painting simply stopped there), as if something had been cut off and the surface was not properly smoothed. Of course the church has been damaged, restored and repainted many times. And perhaps there is another explanation for this peculiarity, but nevertheless: looking at this post-Audebert inscription, it seemed quite imaginable that his inscription covered the place of a previous one, that of Jamet's epitaph for Marot, which had been removed by force ("martellée"). [28] All elements fitted:
not far from the right side door…
just inside the church…
Although we had not seen Jamet's epitaph with our physical eyes, we had the strong impression of having seen it with our spiritual eyes, a minor but sweet revenge on those people who had so vigorously tried to wipe out all traces of Clément Marot de Cahors en Quercy.
La mort n'y mord
Antwerp, 25 July 2009
Dick Wursten & Jetty Janssen
Post Scriptum
After returning home, having done the research to write this article, our attention was drawn to a recent publication by Richard Cooper, in which he relates that he found an image of the original epitaph in Turin, a drawing by a student, who in the middle of the sixteenth century travelled through Italy, Spain, Germany and France setting down epitaphs and other inscriptions. His Manuscript ends with two epitaphs dedicated to Marot, the final one being Jamet's. (Harvard, Houghton Library, MS Typ 152, f° 179v°, Imagines sepulcrorum et epitaphiorum inscriptiones antiquae.) See, Richard Cooper, 'Dolet et Marot jugés par Jean Binet et Gabriele Siméoni', in Esculape et Dionysos: Mélanges en l'honneur de Jean Céard, ed. Jean Duprèbe, Franco Giacone, Emmanuel Naya (Geneva, 2008), p. 511-527, the discovery on p. 522-523, the reproduction at p. 527. The text of the epitaph in majusculs with abbreviations and orthographical errors (which at the same time betray that the one who carved it probably was an Italian and that the drawing is not fake) closes with: "Obit Thaurini An.D. M.D.XLIIII. D.XII..S." ('he died Anno Domini 1544 on the 12th Day of September'). The space used for Guichard's epitaph and the space needed for Marot's seem to match. The drawing of this wandering student is reproduced below (copy from the article of Richard Cooper, p. 527).
<![if !vml]>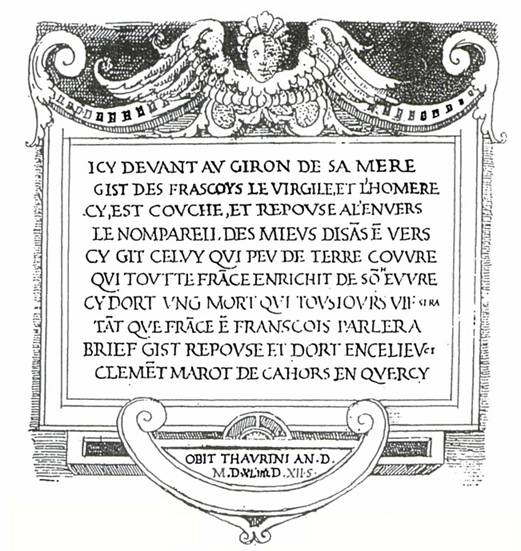 <![endif]>

---