Avec ses quatre dromadaires
Don Pedro d'Alfaroubeira
Courut le monde et l'admira.
Il fit ce que je voudrais faire
Si j'avais quatre dromadaires.
De Dromedaris
Met zijn dromedarissen kwartet
trok Don Pedro d'Alfaroubeiret
vol verwondering de wereld rond
Wat hij deed, ik dee't temet
had ik een dromedarissen kwartet.
note d'Apollinaire: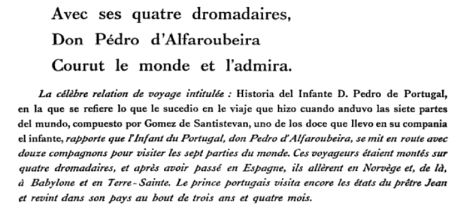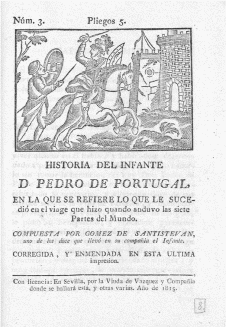 noot van Apollinaire
Het beroemde reisverslag "Historia del Infante D. Pedro...", vertelt dat de Infante van Portugal, don Pedro d'Alfaroubeira, ooit op weg ging met twaalf metgezellen om de zeven werelddelen te bezoeken. Zij reisden op vier dromedarissen, en nadat zij Spanje hadden doorkruist, gingen ze naar Noorwegen en vandaar naar Babylon en het Heilige Land. De Portugese prins bezocht ook nog het Rijk van 'priester Johannes' en kwam na drie jaar en vier maanden weer terug in zijn eigen land.
The celebrated travel account, "History of the Infante D. Pedro of Portugal, in which is related what occurred on his journey to seven regions of the earth, written by Gomez de Santistevan, one of twelve who escorted the Prince" tells how the Infante of Portugal, Don Pedro of Alfarubera, set out with twelve companions to visit the seven continents. On four dromedaries, the travelers rode through Spain, then Norway, and from there went on to Babylon and the Holy Land. The Portuguese prince also visited the land of Prester John, and after three years and four months returned home.
note DW: For "Prester John" and his Kingdom somewhere East of Asia, see Umberto Eco, Baudolino.